A small home with great comfort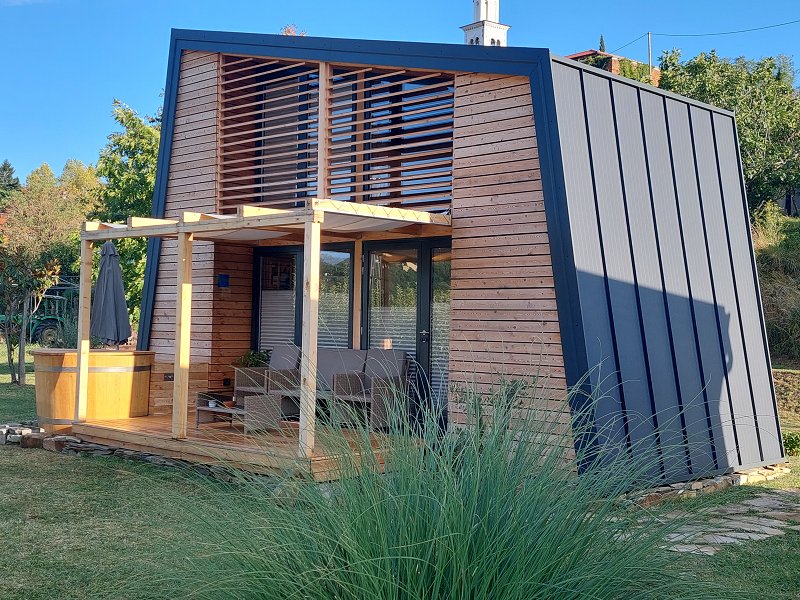 Maxi and its trendy exterior, a sustainable approach to planning and construction and a well-thought-out interior make for a pleasant, healthy and comfortable stay for four people.
A spacious kitchen with a stove, a fridge, a microwave and a dishwasher, a bathroom with a shower, a living room that can be turned into a bedroom for two adults and a separate bedroom with a double bed offer all the comforts of a home away from home.The Minimaxi is made of completely natural materials, is self-sufficient and energy-efficient, and features a water-saver faucet system and large windows, which let in plenty of light and can be shaded on request. Guests enter with a code that they receive upon payment of the reservation, which allows them flexibility in terms of arrival and departure.
ENVIRONMENTAL PROTECTION:
energy-efficient light bulbs
waste sorting
water-saver faucets
use of eco-friendly soaps and cleaning agents
use of eco-friendly toilet paper
wastewater collection
eco-materials
cost- and energy-efficient construction
ADDITIONAL FEATURES

Maxis boast the international GREEN KEY eco-label, awarded to facilities whose staff and partners are committed to environmentally-friendly practices. In line with this, our guests are likewise asked to respect our green policy.
Najem e-koles

E-bike rental
You can explore Open Villages and the local attractions on comfortable Empress electric road bikes.
Half-day, all-day or weekend rentals are available.