Homestead At the Station
Juicy fruit from the Vipava Valley and extra virgin olive oil from Hvar. The Vodopivec family has been involved in fruit growing since 1986, when the first 1,250 peach seedlings were planted. In the mid-1980s, fruit growing in the Vipava Valley was on the rise, while domestic peach was an extremely prized and sought-after fruit. Today, the story is quite different. The peach orchards that were once the pride of the valley have collapsed one after another.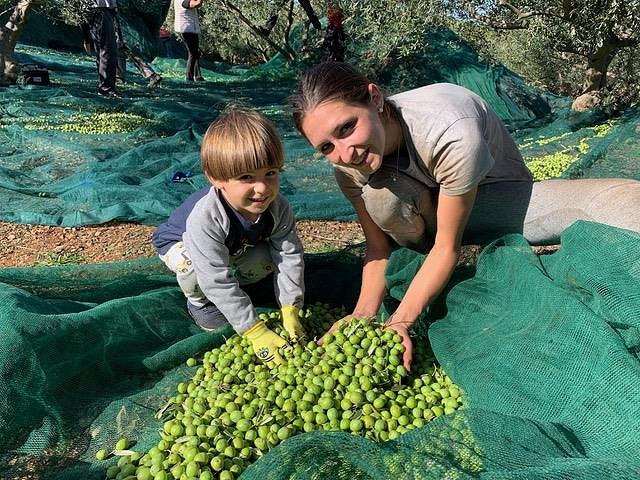 The Vodopivec family planted a new, much smaller plantation with 250 peach trees, and at the same time another 120 cherry trees. "We still believe it is worth it, even though fruit growing is a hobby and a joy for us at the moment, not a source of survival. But we insist, because we want to take the family tradition forward", said Karmela Vodopivec, adding that they are used to always having their own fruit at home, which is fresh and healthy. We are also happy to offer these excellent products to our guests. "We also like to process fruit into juice, compote, and even jam. We are proud to know how to grow something of our own. "
Years ago, the whole family was involved in the peach orchard. "During the harvest, we went to the orchard in the morning, took a short break for lunch and returned in the evening," she says, adding that they no longer need as much effort now. She cultivates a peach and cherry orchard with her husband Dean. Son Luka and grandmother Meri also help. When the picking season is at its peak, in addition to Dean's sister Valda, who brings the family from Hvar, neighbours and friends also like to come to the rescue, especially those from the city who are happy to do an hour of work in nature.
With the Open Villages project, they are looking forward to new guests for whom they have prepared various experiences. "We take the guests to the orchard. Of course, it is most beautiful when the trees are in bloom or when it is time to pick the fruit. Already, many passers-by stop, they like to inquire about when the fruit ripens, when we pick it, they are also interested in when we cut the trees. Some people buy a box of freshly picked fruit, others prefer to pick it themselves and it is full of those who are enthusiastic about the new knowledge. "
The Vodopivec family does not yet have its own product that could be sold to the guest, except for fruit. For home use, they make natural juice and jam according to old recipes, completely without artificial additives. At least for now, they do not dare to have larger plantations. "If we have something more in stock, of course we offer the guest to try. Without hesitation, we direct them to the neighbours, who we know sell home-made products" says the housewife, adding that they like to show the guest their lives. "A lot of people are looking for it, they need change and the knowledge that there is a different life as well. In the village I can say we are united, we like to help each other. We also live by helping our friends, sharing common goods. We live very connected. And when the guest feels accepted, he also feels good.", she said.
The farm also sells wonderful olive oil, which is produced by Dean's niece Eva Marija Čurin with her family on the island of Hvar. She remains strongly connected with her family and her roots in Prvačina. "When the opportunity arises, just for a day or two, I use it to drive to the Vipava Valley, to the At the Station homestead, which is my second home," says Eva. Although she is a good 650 km away from her parents' home, joining the story of the Open Villages was an easy decision to make. "I feel part of Prvačina, I spent the first years of my childhood here, I know my fellow citizens. I am a girl from the village and even though I went to school in Ljubljana, the weekends with my grandmother Meri were the most beautiful thing for me. "
"I come from a family that has always been concerned with the earth, which has embraced this way of life and connection with nature. We want to bring this important bond closer to our guests so that they understand the dependence between nature and us. We want to offer them the opportunity to learn more about what nature gives us, where and how the food they eat is produced" says Eva Marija Čurin. "My father is from the eastern part of Hvar, from the village of Gdinj. His ancestors also lived here, mainly from fishing and what the land gave them. Gdinj has always been known for its olive oil, wine and dried figs. After my father sold all his property in Ljubljana, we moved to Hvar and began to slowly restore the inherited land. Since wine processing is quite demanding, we decided to focus on olives. We planted the first trees in 1997." says Eva Marija Čurin, who keeps in close contact with Prvačina, grandmother Meri and uncle Dean. "We have a vineyard, a peach orchard in Prvačina, we have fields planted with chicory." Out of love for the land and a desire to continue the tradition of farming on her father's homestead, she finished studying agronomy and received 500 new olives trees as a gift for graduation. Today, Hvar has a plantation with 1000 trees of twelve different varieties of olives, and their organic production includes the cultivation of lemons, figs, lavender, immortelle and seasonal vegetables. On 5 ha of surface and 250 m above sea level, the primary cultivation is olives, from which high-quality organic extra virgin olive oil is obtained.
"We are especially proud of 2017, when our olive oil was rated as the best Croatian island product at the event " Noćnjak ", in 2018 the oil received the championing title at the event "Days of olive oil on the island of Hvar", and in 2019 our oil was included in the world guide to the 500 best olive oils "Flos Olei 2019". In 2020, we won a gold medal in New York (IOOCNY). These are just a few of the titles we are proud of and they confirm, in addition to the quality, that we are on the right path. "
"I want to show the guests of Open Villgaes the charm and all the positive sides of Prvačina, and with the offer of olive oil from Hvar also a strong family bond, which despite hundreds of kilometres remains strong, as well as our bond with nature. At the time of picking peaches, we arrive at Prvačina and help Uncle Dean and Aunt Karmela in the orchard. Even when we receive an order for a larger shipment of oil, we get in the car and deliver it in person, because we are always happy to come home. For guests who visit the Open Villages, the locals like to prepare tastings of their olive oils, and at the At the Station homestead they can, in addition to Vipava, also discover the tastes and smells of olive oil from Hvar. You can smell green grass, the smell of green olives, as well as artichokes and green tomatoes. "